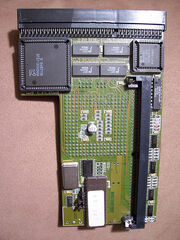 Apollo 1260 is a CPU expansion board for Amiga 1200 coming up with Motorola MC68060 processor in one of these versions: 060@50Mhz, 060@66Mhz or LC060@75Mhz. It also provides 1 x 72pin SIMM socket where up to 32MB of RAM can be installed.
As an option you could purchase SCSI-II controller for this card.
This board was made by german company ACT Elektronik Vertriebs GmbH.